"I know the fact that I can't promote on TV shows so it was very hard at the beginning. Even though I have hesitated a lot, concert is the only way I can meet everyone so thanks to you, I have released this new album. Thank you very much."'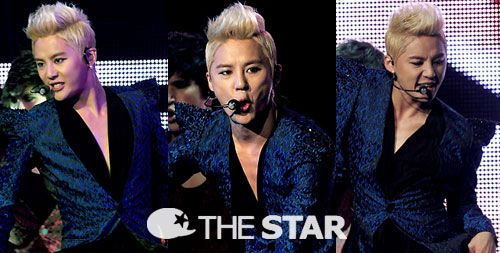 Using the name 'XIA', JYJ Kim Junsu has held his own solo concert.
Considering that the album can't be promoted on TV, this concert has a special meaning for Kim Junsu and his fans as this is the only place where Kim Junsu can fully reveal his true self through his songs after 8 years.
At 6pm, May 20, XIA's first Asia tour concert officially started at Jamsil Indoor Stadium, Seoul.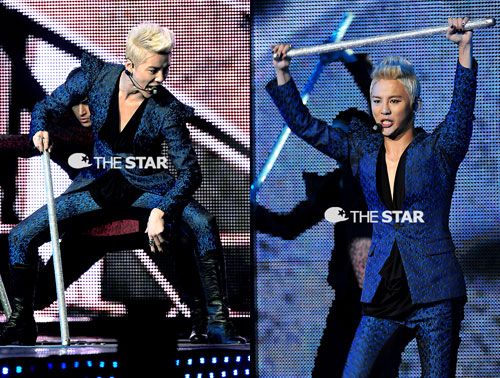 ◆XIA's sexy allure which no one can take their eyes off
After the fireworks sparked from the middle of the stage, Kim Junsu appeared on stage just like a magician. Opening with the song 'Breath', Kim Junsu overwhelmed the audience in one stroke with his pelvis dance moves and sexy glaze. After that, two female dancers appeared and lied down on his thigh from both sides and get fully intoxicated by his sweet lullaby. Then, Kim Junsu completed 3-4 more songs showing a persistent and strong performance.
In the next 10 minutes, while facing against a mirror, Kim Junsu presented his new song 'Intoxication' which showed his moderate dance and manly charm to the audience. Being immersed in Kim Junsu's song, as soon as the fast and hightempo song 'Set me free' started, the audience started cheering along with its rhythm.
◆Junsu-time "Until when will you request 'Angel Xiah' ?"
Kim Junsu has prepared a special gift to the audience full of his fans. It is called 'Junsu-time'. Kim Junsu said "Within my capability, I will grant three wishes from the audience". First, fans requested a live version of the ballad 'Snow flower', then they asked him to do "Booing booing" cutely, and the last wish was showing his 'Angel Xiah' pose.
To this, Kim Junsu asked "Until when will you request 'Angel Xiah? Now I'm already 27 years old.", then he admited "When I saw myself doing that in the past, I think it was cute too but now to be honest, I don't know if it's still cute or not". Still, he tilted his head while placing his hand to his cheek and made a cute 'Angel Xiah' pose.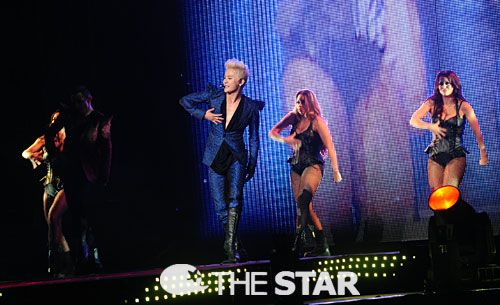 ◆The vocalist Kim Junsu: Flower of live singing is blooming.
As the sweet ballad 'You are so beautiful' from the drama 'Scent of a woman' and 'Although I knew', then 'Round and round' were resonating in the concert hall, once again, the audience acknowledged the true merit of the vocalist Kim Junsu.
A special stage of 'The last dance' from musical 'Elisabeth with 'I am, I am music' and 'Why don't you love me' from musical 'Mozart' was also prepared. The thousand different faces of Kim Junsu on stage and his powerful performance are enough to shake anyone's heart.
◆The performance of title song 'Tarantallegra': a series of sensuality and sexy charisma.
The highlight of the concert is the title song of Kim Junsu's first solo album 'Tarantallegra'. This sensational dance song which contains an intoxicating and fantasy feeling, was composed and arranged by Kim Junsu himself and its lyrics was written by his brother JUNO.
While dancing on a 10-meter-high pyramid lift, Kim Junsu casted his magic spell 'Tarantallegra' and captivated the audience. In 'Tarantallegra', his oustanding vocal ability that has been accumulated for 8 years and his perfect performance shone even brighter.
As the audience kept shouting "Encore", Kim Junsu went on and sang the song 'Mission' which was featured in JYJ's album', then two more songs from his solo album, 'I hate love' and 'A dew-laden tree'. Today while Kim Junsu sang the song that he has shed a lot of tears while recording – 'I hate love', no one knows whether those were his tears or his sweats that kept falling non-stop.
At the last day of Kim Junsu's concert in Seoul – the first stop in his Asia tour, in 90 minutes, more than 7,000 fans were bewitched by Kim Junsu's magical voice and gesture.
Translated by: sweetiexiah of JYJ3
Shared by: JYJ3 + Toxic Xiah